Production of Astaxanthin Using CBFD1/HFBD1 from Adonis aestivalis and the Isopentenol Utilization Pathway in Escherichia coli
Bioengineering 2023, 10(9), 1033; https://doi.org/10.3390/bioengineering10091033 (registering DOI) - 01 Sep 2023
Abstract
Astaxanthin is a powerful antioxidant and is used extensively as an animal feed additive and nutraceutical product. Here, we report the use of the β-carotene hydroxylase (CBFD1) and the β-carotene ketolase (HBFD1) from
Adonis aestivalis
, a flowering plant, to produce astaxanthin in
[...] Read more.
Astaxanthin is a powerful antioxidant and is used extensively as an animal feed additive and nutraceutical product. Here, we report the use of the β-carotene hydroxylase (CBFD1) and the β-carotene ketolase (HBFD1) from
Adonis aestivalis
, a flowering plant, to produce astaxanthin in
E. coli
equipped with the
P. agglomerans
β-carotene pathway and an over-expressed 4-methylerythritol-phosphate (MEP) pathway or the isopentenol utilization pathway (IUP). Introduction of the over-expressed MEP pathway and the IUP resulted in a 3.2-fold higher carotenoid content in LB media at 36 h post-induction compared to the strain containing only the endogenous MEP. However, in M9 minimal media, the IUP pathway dramatically outperformed the over-expressed MEP pathway with an 11-fold increase in total carotenoids produced. The final construct split the large operon into two smaller operons, both with a T7 promoter. This resulted in slightly lower productivity (70.0 ± 8.1 µg/g·h vs. 53.5 ± 3.8 µg/g·h) compared to the original constructs but resulted in the highest proportion of astaxanthin in the extracted carotenoids (73.5 ± 0.2%).
Full article
►

▼

Show Figures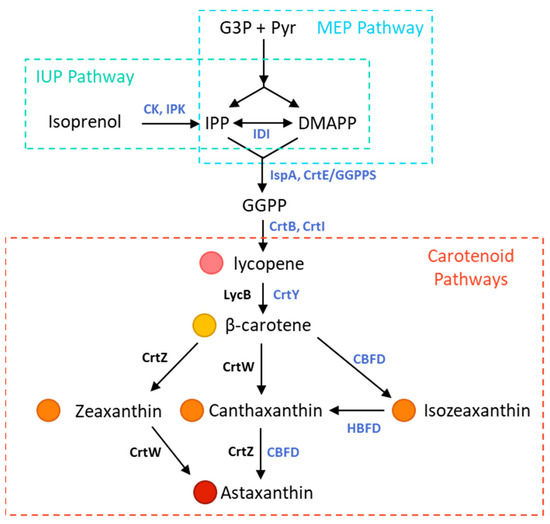 Figure 1