Sodium Silicate Improves Cucumber Seedling Growth and Substrate Nutrients and Reduces Heavy Metal Accumulation in Plants
Horticulturae 2023, 9(9), 988; https://doi.org/10.3390/horticulturae9090988 (registering DOI) - 01 Sep 2023
Abstract
The gasification filter cake (GFC) has great application potential for improving the characteristics of seedling substrates due to its nutrient richness and excellent water retention capacity. However, GFCs leach heavy metals easily and thus pose certain ecological risks. Sodium silicate can enhance plant
[...] Read more.
The gasification filter cake (GFC) has great application potential for improving the characteristics of seedling substrates due to its nutrient richness and excellent water retention capacity. However, GFCs leach heavy metals easily and thus pose certain ecological risks. Sodium silicate can enhance plant resistance to heavy metal toxicity by fixing heavy metals. This study investigated the impact of sodium silicate on cucumber plant growth, the chemical characterization of the substrate, and the distribution and transfer of heavy metals. Sodium silicate was added to the seedling substrate mix at mass rates of 0 g/kg
−1
(GFC0), 2 g/kg
−1
(GFC2), 4 g/kg
−1
(GFC4), and 8 g/kg
−1
(GFC8). The seedling substrate was composed of a commercial matrix, caragana compost, and GFC (m:m 7:7:2). The GFC increased the content of total phosphorus (P), available phosphorus (P), and available potassium (K) in the substrate by 31.58%, 16.58%, and 80.10%, respectively. Conversely, the GFC decreased the plant height by 12.3%. Adding sodium silicate to the GFC increased the chlorophyll content of the plants, fixed heavy metals in the substrate, and promoted nutrient absorption and utilization by the plants. Compared with GFC0 without sodium silicate, adding sodium silicate at a mass rate of 2 g/kg
−1
(GFC2) reduced the chromium, lead, and cadmium contents by 51.13%, 26.37%, and 90.04%, respectively, which effectively alleviated heavy metal stress and was more conducive to plant growth.
Full article
►

▼

Show Figures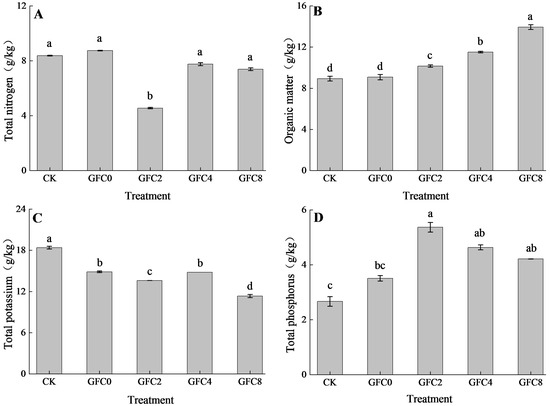 Figure 1