Nigrospora oryzae Causing Leaf Spot Disease on Chrysanthemum × morifolium Ramat and Screening of Its Potential Antagonistic Bacteria
Microorganisms 2023, 11(9), 2224; https://doi.org/10.3390/microorganisms11092224 (registering DOI) - 01 Sep 2023
Abstract
Chrysanthemum
×
morifolium
Ramat. is a famous perennial herb with medicinal, edible, and ornamental purposes, but the occurrence of plant diseases can reduce its value. A serious disease that caused leaf spots in
C. morifolium
appeared in 2022 in Tongxiang City, Zhejiang Province,
[...] Read more.
Chrysanthemum
×
morifolium
Ramat. is a famous perennial herb with medicinal, edible, and ornamental purposes, but the occurrence of plant diseases can reduce its value. A serious disease that caused leaf spots in
C. morifolium
appeared in 2022 in Tongxiang City, Zhejiang Province, China. The
C. morifolium
leaves with brown spots were collected and used for pathogen isolation. By completing Koch's postulates, it was proven that the isolate had pathogenicity to infect
C. morifolium
. It was determined that the pathogen isolated from chrysanthemum leaves was
Nigrospora oryzae
, through morphology and a multilocus sequence analysis method using a combination of the internal transcribed spacer gene (ITS), beta-tubulin gene (TUB2), and translation elongation factor 1-alpha gene (TEF1-α). This is the first report of
C. morifolium
disease caused by
N. oryzae
in the world. Through dual culture assay on PDA plates, 12 strains of bacteria with antagonistic effects were selected from 231 strains from the
C. morifolium
phyllosphere, among which
Bacillus siamensis
D65 had the best inhibitory effect on
N. oryzae
growth. In addition, the components of a strain D65 fermentation broth were profiled by SPME-GC-Q-TOF analysis, providing a foundation for further application and research of biological control.
Full article
►

▼

Show Figures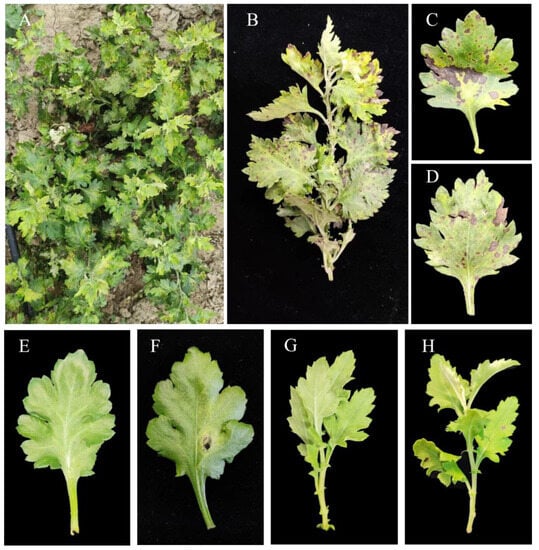 Figure 1