Sphalerite and Pyrite Geochemistry from the Pusangguo Co-Rich Cu–Zn–Pb Skarn Deposit, Tibet: Implications for Element Occurrence and Mineralization
Minerals 2023, 13(9), 1165; https://doi.org/10.3390/min13091165 (registering DOI) - 01 Sep 2023
Abstract
The Pusangguo deposit (1.42 Mt @ 1.42% Cu, 0.14 Mt @ 1.82% Zn, 0.08 Mt @ 1.01% Pb, and 285.8 t Co @ 140 g/t Co) is the first Co-rich Cu-Zn-Pb skarn deposit discovered in the Gangdese metallogenic belt. However, the trace and
[...] Read more.
The Pusangguo deposit (1.42 Mt @ 1.42% Cu, 0.14 Mt @ 1.82% Zn, 0.08 Mt @ 1.01% Pb, and 285.8 t Co @ 140 g/t Co) is the first Co-rich Cu-Zn-Pb skarn deposit discovered in the Gangdese metallogenic belt. However, the trace and minor element geochemistry of the sulfides in this deposit has not been studied, limiting further understanding of elements' occurrence and mineralization. Here, we identified four ore stages, and two types of sphalerites (SpI and SpII) and pyrites (PyI and PyII), in this deposit. In this study, LA-ICP-MS in-situ trace element analyses were conducted on sphalerite and pyrite, to obtain their chemical compositions, elemental substitution mechanisms, and mineralization physicochemical conditions. The results indicate that two types of sphalerites are generally more enriched with Co than pyrite. SpI has higher concentrations of Co, Cr, Cu, Ag, and As compared to SpII. Both types of sphalerite have very low contents of Sn, Ge, and Ga. PyII has higher contents of most trace elements, such as Co, Ni, Mn, Zn, Cu, As, Sn, Se, Pb, Ag, and Bi, compared to PyI. Both types of pyrite are poor in Mn, Ga, Ge, and Cd, but enriched in As, Co, and Ni. The Mn, Fe, Co, and Cd in sphalerite, and Co, Ni, and Mn in pyrite are generally lattice-bound, while Cu, As, Ag, and Sb are usually present in both micro-inclusions and coupled substitution. Significant elemental correlations in sphalerite indicate the possible substitution mechanisms 2Fe
2+
+ Ga
2+
↔ 3Zn
2+
, 2Fe
2+
+ Ge
4+
↔ 4Zn
2+
, and (Sb
3+
, Sn
3+
) + (Cu
+
, Ag
+
) ↔ 2Zn
2+
. The correlation trends between trace elements in pyrite suggest the coupled substitution mechanisms of (Tl
+
+ Cu
+
+ Ag
+
) + (As
3+
+ Sb
3+
) ↔ 2Zn
2+
and As
3+
+ Cu
+
↔ 2Zn
2+
. The mineralization temperature at Pusangguo, as determined by the GGIMFis sphalerite geothermometer, is 237–345 °C (avg. 307 °C), consistent with the high Zn/Cd ratio (avg. 203), low Ga/In (avg. 0.06), and high In/Ge (avg. 15.9) in sphalerite, and high Co/Ni ratio (avg. 24) in pyrite. These results indicate that the ore-forming fluid was high-temperature, with a low sulfur fugacity (
f
S
2
) (10
−13.4
to 10
−8.3
) and low oxygen fugacity (
f
O
2
). The high temperature, and low sulfur fugacity and oxygen fugacity of the ore-forming fluid, and the fluid-mixing process, jointly controlled the sulfide precipitation, which caused the formation of the Pusangguo deposit.
Full article
►

▼

Show Figures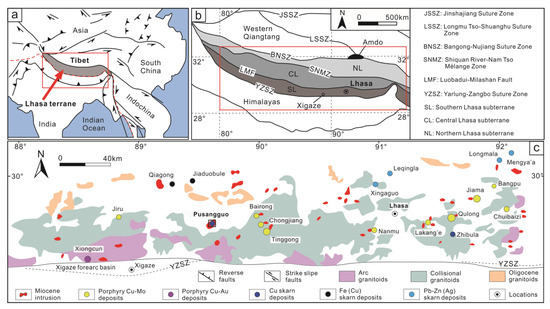 Figure 1